HIAS SEN Moodle
Want to be kept up-to-date?
Click here to subscribe to our SEN site news so we can keep you up-to-date with the latest news and training opportunities from the HIAS SEN team. Registration just takes a few minutes and you can unsubscribe at any time.

Skip site announcements
Site announcements
UK Disability History Month
Valuing Difference: Understanding the Need for Disability Equality

YouTube: https://www.youtube.com/watch?v=E6rBuSZoSu8

While linked to the current UK Disability History Month (UK Disability History Month – 16 November – 16 December (ukdhm.org)), some of this relatively short video raises some interesting points and ways of talking and thinking about disability, barriers and impairments, and disability as a social construct. Aspects might be useful in your work or for further exploration.
Don't forget to book for the Spring 23-24 Secondary SEN Network (Webinar) – 23 January 2024
The primary aims of the subject network meetings are to:
Ensure a clear understanding of the national picture and its application in local and school contexts. 
Support effective subject leadership as appropriate to each school's individual context. 
Develop skills, expertise, and capacity within school subject leaders and their teams through quality strategic CPD and the sharing of good practice. 
Deepen understanding of subject specific pedagogy and knowledge that underpins good progress and attainment for ALL pupils. 
Facilitate school to school networking and develop strength across the system. 
Search and book on the Learning Zone using keyword search: Spring SEN
Price:
Sub £50 / SLA £40 / Full £60
Secondary SEN Network flyer 
Don't miss the Hampshire Special Educational Needs Conference 2024 – 31 January 2024
The theme for the conference this year is: Adopting a strengths-based approach to supporting students with SEND.
This all-day conference aims to explore and promote the adoption of a strengths-based approach to supporting students with SEND.
Attendees will gain insights into the positive impact of focusing on students' strengths and abilities, rather than solely on their challenges. The conference will provide a platform for sharing best practices, research findings, and practical strategies to enhance the educational experiences of students with SEND.
Search and book on the Learning Zone using keyword search: Special Conference
Price: Sub £160 / SLA £65 / Full £192 
Hampshire Special Educational Needs Conference 2024

 flyer
Sign up to the Autumn 2 23-24 Primary SENCO Network (webinar) – 29 November 2023
Networking is an essential opportunity for SENCOs to collaborate with other professionals who understand the challenges of the role and to share good practice. Attending these networks offers an opportunity to build professional relationships that in turn enhance inclusive education across Hampshire. 
The primary SENCO network is designed to ensure that you are regularly updated around key information and good practice across Hampshire schools. They are designed to support you in your role in ensuring the inclusion and progress of children with SEND in our primary schools. 
The sessions will be designed to ensure that we are enhancing your knowledge, skills and understanding so that in turn you are able to effectively identify, assess and meet the needs of our pupils with SEND.  
Search and book on the Learning Zone using keyword search: Autumn 2 SENCO
Price:
Sub £45 / SLA £30 / Full £54
Special edition of SEN Matters - Transforming SEND
SEN Matters has been a key publication in promoting awareness and signposting schools to available resources, we are making this term's edition available to all schools across Hampshire and the IOW. This offer is part of our 'Transforming SEND programme' and our collaboration with DfE initiatives' Delivering Better Value' (HCC) and 'Safety Valve' (IOW).
This special edition of SEN Matters, Transforming SEND,  includes a heartfelt editorial by Naomi Carter about her personal journey and features a selection of articles on the following themes:
Introducing Transforming SEND
Leadership and culture 
Relationship and behaviour
Consideration of the learning environment
SEN support teaching strategies
We hope you find this special edition of SEN Matters informative and inspiring.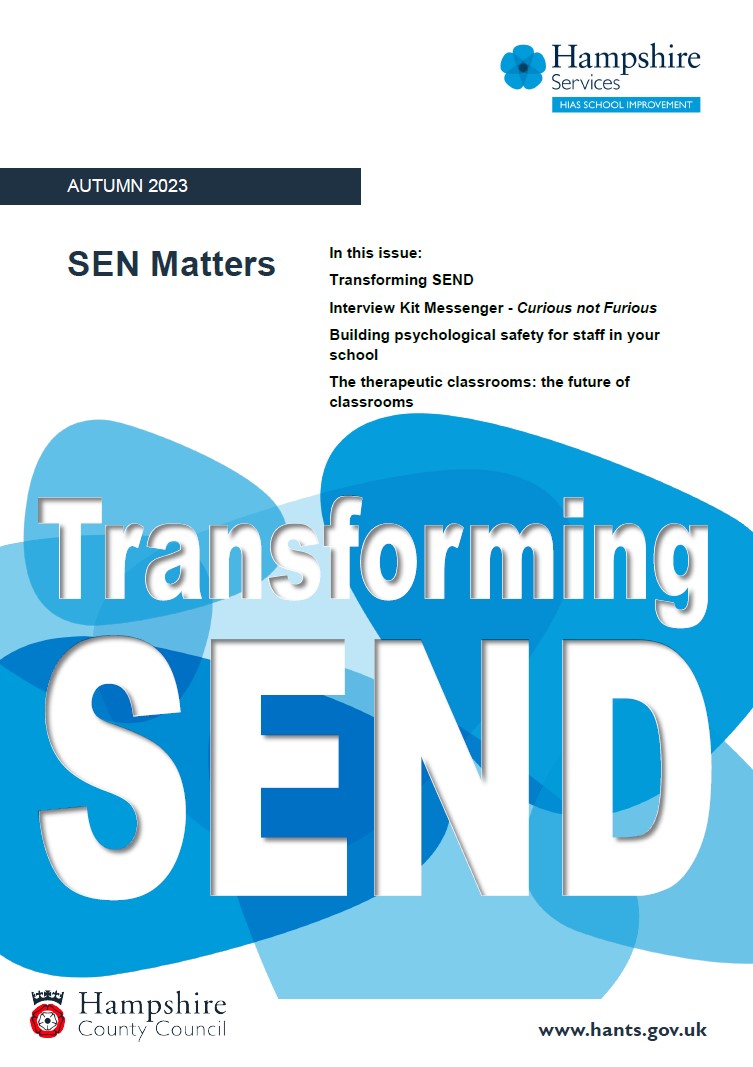 Older topics...